In 2013 I wrote an article on war brides. Originally posted on Brooke Blogs, I wanted to emphasise how love and war are intricately linked, despite the horrors that are faced. While this article is based on WW2, and in a lead up to Remembrance Sunday, we mustn't forget our armed forces who still fight abroad, sometimes in bleak and hostile environments.
War Brides: Proximity, Opportunity and Generosity
Did you know that at the end of World War 2 over 1 million women from around the world had married American GI soldiers? Over 100,000 were from Britain alone. A staggering 46,000 British women travelled on special War Bride ships back to the United States after the war ended with the first Brides arriving at New York in February 1946.
It's no surprise that war changes us all. Our loved ones go to fight in foreign countries but it isn't the soldiers alone that war affects. War is like a disease, it affects everyone around it whether you want it to or not.
During World War 2 Americans arrived in Wiltshire, the county where I'm originally from. Wiltshire is primarily made up of small country villages. The kind where you've known everyone from birth. For a teenage girl in a village such as this, there were slim pickings on the male front. You either travelled to one of the larger towns such as Swindon, Salisbury or Trowbridge for a night out to meet boys or you settled (and some fell in love) with the local lads.
So imagine thousands of foreign American soldiers wearing their dashing uniforms and showing off their white teeth and debonair attitudes arriving at setting up camp around the county. Soon, a fever broke out among the Wiltshire single women. This was not only fresh meat but an opportunity to break the cycle of living as their mothers had. It wasn't long before the Americans started to mingle with the locals and hearts began to beat as one with the impending D-Day looming closely.
For many women it was the uniforms. You couldn't beat a smooth talking American in his Khaki's. Along with that came the chocolate that rationing did not provide. And stockings, another rationed and much sought-after necessity for women wanting to make an impression. But mostly it was companionship. The chance to talk to a foreigner, to meet someone new and have exciting conversations that village life just didn't offer. As D-Day approached decisions were made, promises spoken of, and marriages took place. Most parents didn't oppose their daughters marrying Americans. In fact many encouraged it as a new opportunity to discover the world and gain new experiences.
Love during war time reminded the soldiers of what was most important in their lives. There's no point fighting a war if you have nothing to fight for. In many ways the women of Wiltshire gave the American soldiers new reasons to fight and end the war as soon as possible. They left their hearts in England and planned to whisk them away as soon as they were done.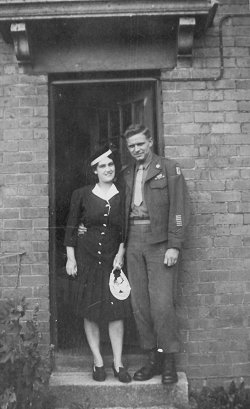 The statistics aren't clear as to how many War Brides that arrived in America actually left to go back home. But the ones that stayed were welcomed with open arms and soon settled down into a new way of life albeit far from home. After all America was made up of immigrants to begin with. This new flux was nothing they hadn't seen before.