by Willow from Haunted Wiltshire Blog
Longleat House is probably best known for its safari park, which includes a troop of 100 or more mischievous, Rhesus Macaques, who's sole intention seems to be the random destruction of your car. Amongst Longleat's many other attractions, is the worlds longest maze. I don't know about it being the 'longest', but it certainly has to rate, in my opinion, as the longest time spent trying to escape from box hedging.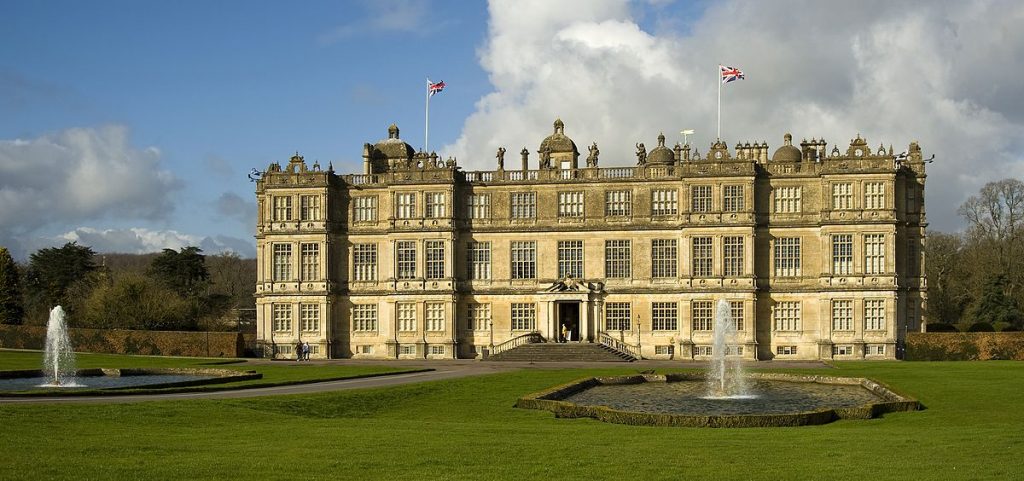 Longleat House
Image used by kind permission of Saffron Blaze, via http://www.mackenzie.co
A Brief History
Longleat House lies near Warminster on the A362. It must surely rate as one of the finest examples of Elizabethan architecture in Britain. It stands prominently in 900 acres of beautiful parkland, much of which was landscaped by Lancelot 'Capability' Brown in the 1700s. The estate was originally the site of a medieval Augustine priory, until King Henry the VIII fell out with the Roman Catholics and had the monasteries and priories and anything else that hinted at having 'monkish' connections dissolved.
During the Reformation, the Longleat estate was purchased by Sir John Thynne in 1541 for the princely sum of £53. The first house was destroyed by fire in 1567. The second house, which remains largely unchanged to this day, was finished in 1580 shortly before his death, having taken thirteen years to complete. The Thynne dynasty have been the sole owners of Longleat House for 470 years. The current seat is occupied by Alexander Thynne – the 7th Marquess of Bath. Longleat has become one of Britain's most visited attractions and its safari park was a world's first, outside of Africa when it opened in April 1966 and effectively rewrote the book on how animals should be kept in captivity.
The Grey Lady
Before I begin this story, I must make a point which hopefully will help clear up any confusion which may arise from you reading the internet and several other publications that refer to Longleat's "Green Lady" and the "Green Lady's Walk." I have it on good authority, having spoken to several of Longleat's house guides, that the apparition in question is actually referred to as the "Grey Lady" and the Grey Lady's Walk," respectively. "Why the confusion with colours I asked?" "Simple!" came the reply, "she dresses in grey." You can't argue with that. Right, on with the story.
The most famous of Longleat's ghosts is that of Lady Louisa Carteret, who married the 2nd Viscount of Weymouth – Thomas Thynne in 1733. He agreed to allow her to bring her own serving staff to Longleat as part of their wedding arrangements. One of her entourage was a young footman who's adoration to his Lady seemed to go beyond what was expected of his post, at least that is how it appeared to a few of Longleat's household staff. They grew jealous of what seemed to be favouritism by Lady Louisa towards this young man. Rumours and suspicions grew as to the likelihood of there being extramarital liaisons between the two. These rumours were quite untrue as it turned out but word got back to Thomas that his wife was having an affair. Thomas, well known for his quick temper confronted the fellow at his earliest opportunity in a passageway outside the old library on the first floor beside a spiral staircase. An altercation took place whereby Thomas accused the footman of indiscretions toward his wife, which he flatly denied. In a fit of rage, Thomas lost his temper and pushed the footman down the stairs breaking his neck in the fall.
Thomas, fearful of being implicated in his murder, quickly had the body buried in the cellar and made up a story for Lady Louisa that the footman had left without word. She did not believe him, fully aware of his distrust for her servant. She suspected her husband had imprisoned him somewhere inside the enormous house. She spent many days and nights frantically searching every room, those that were locked she demanded be opened. Her search however proved fruitless, for she never found him. It was on one of her nightly searches in the bitter cold that she caught a chill which developed into pneumonia. Lady Louisa, much weakened and distressed by her husbands deceit succumbed to her illness during childbirth and died in 1736 at the age of 22. She had been married just three years.
Shortly after her death, reports from staff claimed they had seen Lady Louisa prowling the passageway where the incident had taken place, later to be called the "Grey Lady's Walk." Even today she is heard banging on doors in a desperate and endless search to locate the whereabouts of her footman. She was a beautiful young woman in life and it is said by those who claim to have seen her, that she retains her beauty in death. The Grey Lady is the most frequently seen of Longleat's ghosts, even the Marquess of Bath claims to have seen her on occasion. Her portrait hangs in the Lower Dining Room.
After his wife's death, Thomas moved from Longleat, to live in the village of Horningsham nearby. There were those who, at the time, spoke of his reasons for leaving; he lived in mortal dread of encountering Lady Louisa as she walked the passageway after nightfall.
Evidence to back up the death of the footman and subsequent ghost story are further endorsed when central heating was being installed in 1903. It had been necessary to lower the floors in the cellar to accommodated the boiler and pipes. Whilst digging up the flagstones, builders discovered the skeletal remains of a male wearing what appeared to be the remains of jackboots and fragments of a uniform of a footman of the period. To avoid any scandal, the bones were collected and quietly interred in the local churchyard. Ironically, as it turned out, only a few feet away from where 2nd Viscount Thomas Thynne is buried.
The Red Library
Longleat has one of the largest private book collections in Europe. It has seven libraries containing some 40,000 books owned by the family since before the house was built. Nearly half of the 85 volumes which appear in the booklist of 1577 are still to be found on the shelves. One library in particular – the Red Library, contains 5000 books and a rather distinguished ghost who is thought to be that of Thomas Ken – Bishop of Bath and Wells, who took refuge at Longleat when he lost his seat as punishment for refusing to switch his allegiance from King James to King William. He remained at Longleat for twenty years until his death in 1711. His ghost has been seen sitting quietly in the Red Library reading, when approached he vanishes.
View of Longleat House from the main Park entrance
Image used by kind permission of Ralph Rawlinson Geograph.org.uk
I can highly recommend a visit to Longleat, there's something here for everyone. We arrived at 10:00am and by 17:45 (it closes at 18:00) we had still not seen all that Longleat has to offer. I strongly advise the online booking option, you'll save a packet on the day by not having to keep forking out for the many attractions
NEXT – WESTWOOD MANOR – Nr BRADFORD ON AVON